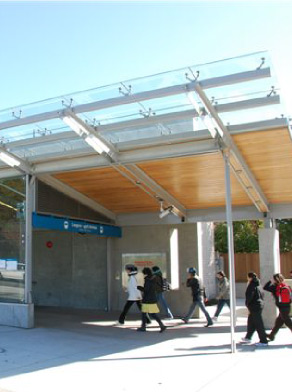 The Canada Line
Welcome to Langara – 49th
Langara 49th Avenue Station, located on the Northeast corner of W 49th Avenue and Cambie Street is the latest link connecting Vancouver post secondary educational institutions to the rapid transit system. Langara College, located east of the station on W 49th Avenue, bustles each day with 19,000 students of all ages commuting from all parts of the city.
The surrounding neighbourhood offers much for the local resident or visitor. Further east, along Main Street, you will find the colourful 'Punjabi Market,' where Vancouver's South Asian community shows off its finest wares and offers scrumptious buffets. Surround yourself with the sounds, smells and colours of India with the many clothing, fabric, music and spice stores.
To the south the boisterous energy of Langara College is contrasted by the serenity of the Langara Golf Course, open year 'round. Bring your own clubs. To the West, Tisdal Park provides a tranquil place to read a book or play a game of baseball.