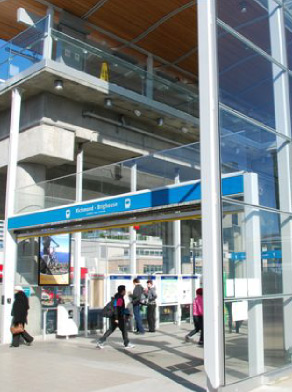 The Canada Line
Welcome to Richmond Brighouse
Brighouse Station is at the heart of Richmond's cultural, recreational and administrative offerings. Located on No 3 Road between Saba and Cook Roads, Brighouse Station is within easy walking distance of shopping, community centres, a wonderful park, theatre and much more.
Neighbourhood highlights include:
Richmond City Hall – No 3 Road and Granville Avenue. Visit the cascading water terraces or Celtic Cross constructed in 1922.
Richmond Art Gallery, Central Public Library and community sports complexes – Minoru Boulevard and Granville Avenue. A contemporary art museum with rotating exhibits of local, Canadian and international artists. Includes a series of community resources for children and adults.
Gateway Theatre and Minoru Chapel – Gilbert Road. Take in a show in Richmond's premier theatre or visit this historic chapel to see who is taking pictures in the garden that day.
Stroll through picturesque Minoru Park, making sure to visit the garden on the Northern side of the park with its waterfall and pond, birds and bunnies.
Also within easy walking distance to Brighouse Station is Richmond Centre and Richmond Square, with easy access to shopping, food and a movie theatre.