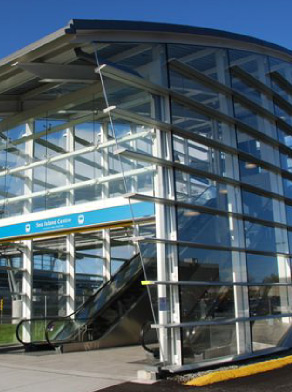 The Canada Line
Welcome to Sea Island Centre
Situated on Grant McConachie Way next to the Sea Island Centre, Sea Island Centre Station is a prime destination for airport employees, mechanics, and those looking to ship or broker cargo.
The station is surrounded by industrial warehouses related to transportation and the airport. At first glance there appears to be very little that would naturally draw riders to this station. However on closer inspection, this neighbourhood offers a few surprises.
Stroll west through the employee parking lot to find a lovely trail leading you through a small wooded area to the International Departures wing of YVR airport.
Stroll south, then east along Miller Road to visit the historic neighbourhood of Burkeville. This family neighbourhood was constructed in 1943 to house Boeing plant employees. After World War II, it was home to an influx of war veterans. The neighbourhood offers a nice array of '40s housing and a boulevard park.