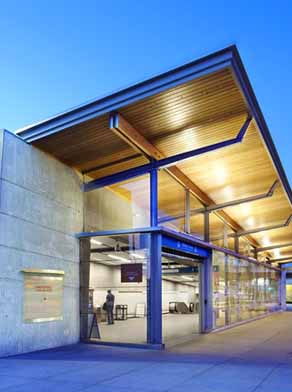 The Canada Line
Welcome to Olympic Village
Step out of the Canada Line Station on West 6th Avenue at Cambie Street and you'll find yourself in one of the fastest changing neighbourhoods in Vancouver. This stretch of waterfront on the Southeast shore of False Creek has a long history as a busy industrial area. This is no longer the case. The newest waterfront property in Vancouver to be developed, this hot new residential neighbourhood is the result of a multi-use development plan including state of the art 'green' construction, new public parks and a wonderful new stretch of boardwalk. As the site of the Athlete's Village for the Vancouver 2010 Olympic and Paralympic Games, the area holds a special place in the hearts of Vancouverites.
To visit Granville Island, hop the #50 bus or walk along the Seawall through Charleston Park, past the pond, waterfall and docks. This Vancouver landmark is a staple for locals and tourists alike. Explore the vegetable stands, local artisans, theatres, music, food and more.
Just east of the Station on the northeast corner of Cambie Street & 2nd Ave, take the pedestrian walkway over the Cambie Street Bridge for a great view of False Creek, Yaletown and the sports stadiums.
In Olympic Village Station itself, take a moment to look at both the North and South bound tracks leaving the station. Notice the tubular (appears circular) 'twin bored' tunnels to the North, and the rectangular (appears square) 'cut and cover' tunnels to the South. This is a transition point in Canada Line tunnel construction between these two techniques.