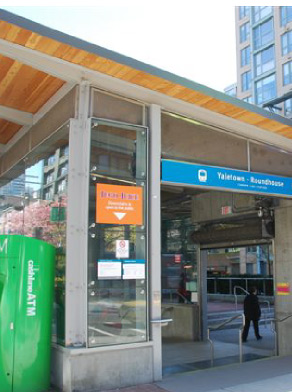 The Canada Line
Welcome to Yaletown – Roundhouse
Formerly the site of the Canadian Pacific rail yards and later the location of the 1986 World's Fair (Expo 86), Yaletown has a long industrial and now residential history. The neighbourhood features high-rise housing, trendy clubs, great restaurants, parks and a picturesque stretch of Seawall. It's also one of Vancouver's most popular residential neighbourhoods. The Yaletown Station entrance can be found on Davie Street at Mainland Street, just seconds from everything Yaletown has to offer.
While in Yaletown, visit the Roundhouse Arts & Recreation Centre at the corner of Davie Street and Pacific Boulevard. This heritage building, now community centre offers numerous classes and workshops throughout the year. Be sure to climb aboard Engine 374 on-site. This locomotive engine pulled the first transcontinental train to arrive in Vancouver on May 23, 1887. It was retired in 1945 and played on by children in Kitsilano Park until 1983. It has since been restored and is open for viewing and climbing on.
For a moment of aquatic tranquillity, stroll along the Seawall from the Southern end of Davie Street for a view of False Creek or ride one of the water taxis to Granville Island.
At night, revellers enjoy the restaurants, bars, and clubs that fill Mainland and Hamilton Streets. Late night you'll find Yaletown Station full of celebrants heading home after their night on the town.